Three nights in Coeur d'Alene and we didn't get to see much.  No time on the water.  No time on the trails.  No time at the local eateries.  Just kidding.  Of course we found food and booze.  But the one destination we were looking forward to spending more time doing and less time consuming, has us working backwards.
The fires were (are) nowhere near us but the entirety of the Pacific Northwest is completely consumed with smoke, haze and bad air.  The schools have a no-recess order and the weather-persons are constantly issueing  "stay inside" warnings.  So we did just that.  We stayed inside……. the bars and restaurants and did absolutely nothing to exert ourselves.  We were perfect tourists.
But as a result, we've added another "come back" city to our list of towns to revisit.  I can however, report that I have officially ended my search for the perfect hamburger.  As I recently reported on FaceBook, we accidentally found  the most famous hamburger joint in the PacNW.  We weren't searching for anything, other than a parking spot, when kismet provided us a spot right in front of Hudson's Hamburgers.  A 110 (yes I said ONE HUNDRED & TEN) year old, family owned hamburger shop.
The place was tiny, tidy, clean, friendly and unbecoming.  It has been reviewed and written-up by the NY Times & Sunset Magazine, along with numerous local and regional papers.  It is a living time-machine.  I thought Marty McFly was gonna drop down next to me and order a Tab.
There were 4 seats available at the counter of 17 stools.  Just as the man pressing patties and flipping burgers in front of us asked how many we wanted, the lady behind the counter slid some waters in front of us with a smile and a "welcome".  They serve two kinds of burgers.  With or without cheese.  And you can have those burgers with 2 toppings, pickles and/or onions.   They don't have tomatoes, lettuce, bacon, french fries, onion rings, seeded buns, or even regular mustard.  They have three bottles in front of you, regular ketchup, spicy house-made secret recipe ketchup and spicy house-made secret recipe mustard.  That's it.  Nothing else.  Don't ask.
In brief conversation with the owners and patrons, our good fortune was revealed to be even deeper than we first realized.  Normally, the line is 30-40 minutes long, out the door and around the block.  We were eating the freshest, tastiest burgers we've ever had, within 5 minutes of sitting down, all because the fire storms kept most people away.  The Burger Gods cast their light upon us, through the thickest of smokey skies, and we knew instantly that we were in the middle of something very special.
There is only  one man working the grill.  There's no room for anyone else.  He hand presses every patty, smashes it down on his cutting board and slaps it on that time-seasoned cast iron grille.  While those babies are sizzling away, he preps the buns with exactly 6 slices (hand sliced at that exact moment) of dill pickle and a 1/4″ thick slab of hand-sliced white onion.  A simple, plain, white-bread bun is the perfect delivery device for that hot & juicy burger.  Add whatever sauce you want to it and take your first bite.  The clocks stop.  The conversations hush and every action around you seems to freeze.  Yeah, it's like that.
We visited 3 times total in a 24hr period and had 6 burgers each.  I took special care to observe and commit to memory, the ingredients, process and procedures.  I WILL replicate these burgers at home.  Trust me, I got this!
Other than that, we're outa here.  Time to head South to find clearer skies and visit my cousins near Reno.  Home is coming soon.  I think we're finally ready.
Oh, we finally saw a moose 😜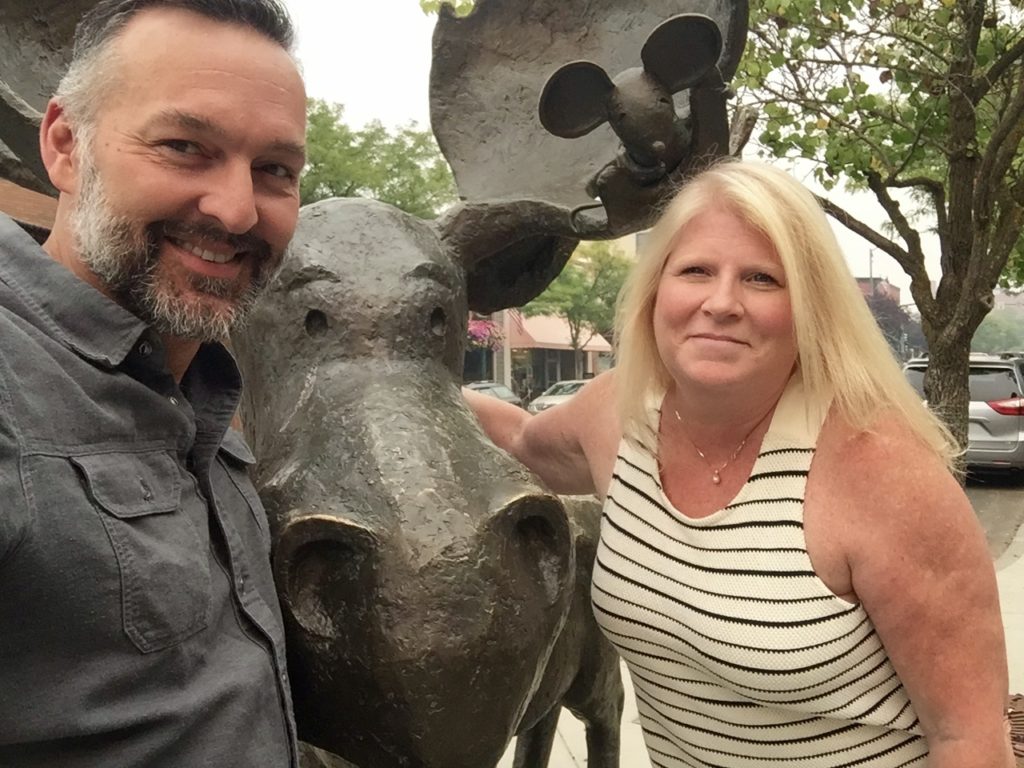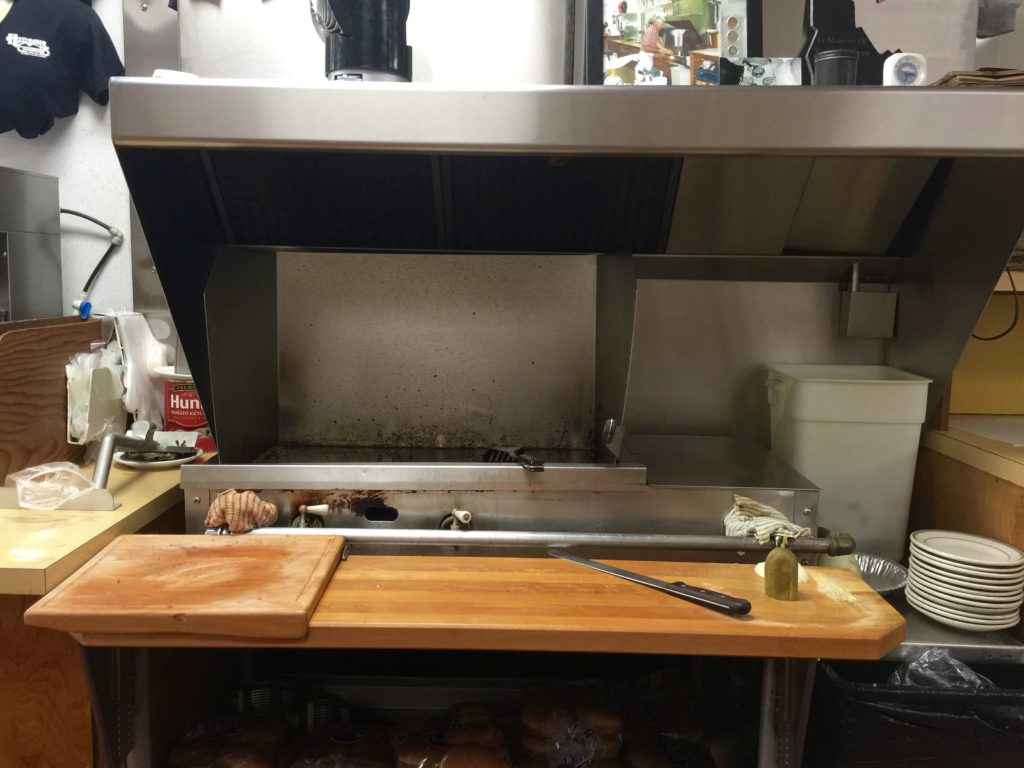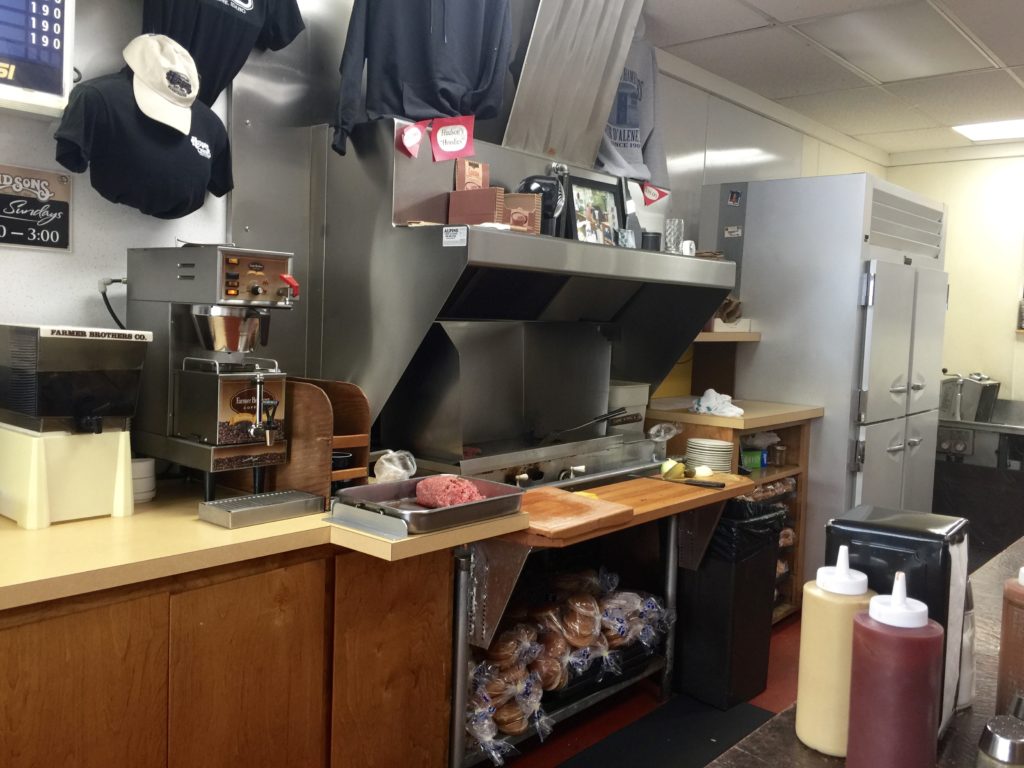 Hey, you can't park there!